Class Connections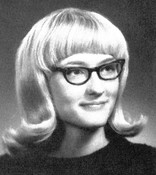 Posted on: Dec 27, 2020 at 3:40 PM
We moved to West Bend Wi in early 2020, after I was diagnosed with Parkinson to a Condo near our daughter in Fredonia. Moving slower, but still get around. My wife takes really go care of me.
Belated Birthday Blessings. Trust you had a good day. And Christmas Blessings today. Dale decided that our children should stay home with their families this year. Dale's sister came to help with our grandson while I have foot surgery and Dale's having a stent put in a blocked artery. So much fun getting old! Hi to Marcia. Be safe. Dale and Kathy
Posted on: Sep 16, 2019 at 6:32 PM
Birthday Blessings! Dale & Kathy
Posted on: Jan 31, 2018 at 9:52 PM
Nancy you are a real class act, always was and always will be!!!