In Memory
Carol Adams (Owens)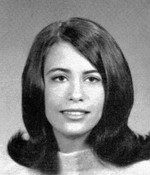 Round Rock, Texas -- Former Mankato area resident Carol Owens, 46,of Round Rock, died Monday, November 13, 1995. Services were November 16 in Round Rock. Memorials may be made to the National Kidney Foundation.
Mrs. Owens was born in Algona, Iowa,and lived in Minnesota before moving to Round Rock seven years ago. She married Michael Owens on September 20, 1969, in Mankato. She was a packaging technician for 3M. She enjoyed fishing, golfing and spending time with her family and friends.
She is survived by her husband, Michael, of Round Rock; one daughter, Amy Owens of Round Rock; five sisters, Ruth Christianson of Shallimar, FL; Jane Clark of Tucson, AZ; Lois Lindbeck of Phoenix, AZ; Judy Jackson of Faribault, MN; and Helen Kaufenberg of Moose Lake, MN; two brothers, Clark Adams of College Station, TX; and Alan Adams of St. James, MN; and aunts, uncles, nieces and nephews.