In Memory
Dave Schulte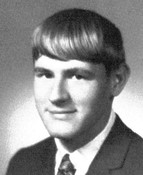 David William Schulte

David (Dave) William Schulte, 68, of Madison Lake, MN passed away May 3, 2018, at St. Mary's Hospital in Rochester, MN.
Dave was born June 15, 1949 to Bernard & Burnette (Reinbold) Schulte in Mankato, MN.
He graduated from Mankato High School in 1967 and was drafted into the Army where he served in Korea during the Vietnam War until he came home in 1970.
He was a sheet metal worker for over 35 years and enjoyed hunting, trapping, fishing, reading, crossword puzzles, and was an avid sports fan.
David was a member of the American Legion of Madison Lake Post 269. He later became a member of the American Legion of Eagle Lake Post 617 and was also a former Commander there. He was very proud of his service to the Legion's he represented.
After Dave retired at the age of 55, it was not uncommon for him to show up in the mornings at the "Kortuem Cabin" to have coffee and BS with his friends there. On Thursdays you could find him at the American Legion of North Mankato Post 518 for a couple hours, meeting with friends there, doing some gambling, and just having fun. Sunday mornings he would head over to "The Point" in Madison Lake to read his paper, talk with friends, and have some brandy with his coffee. Mondays, Wednesdays, and Friday afternoons were reserved for happy hour with buddies at the Lucky Lure in Madison Lake.
Dave will be sorely missed by those who loved, befriended, and respected him.
There will be a Celebration of Life service held Saturday June 16, 2018 at 3:00 pm, at the American Legion of Eagle Lake Post 617. Food and Merriment to follow the service.
Dave is survived by daughters Kristina (Tina) Schemmel and husband Greg, Angela (Angie) Woodruff and husband Michael (Woody), four grandchildren Aidan, Myles, Samantha and Jack. Sisters Patricia (Trixie) Kortuem (Larry), Ruthie Deutschmann (Steve) and his brother Alan Schulte, special friend Teresa Bicknase, nieces, nephews, cousins, and couch buddies Jazz and Tucker. David was preceded in death by his parents, many friends and relatives.
Interment will be at Fort Snelling Cemetery.