In Memory
Stuart Duncan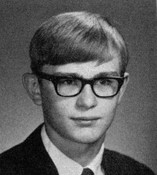 Willmar, MN--Former Mankato resident Stuart Lachlun Duncan, 50, died Tuesday, March 28, 2000, at his home in Kandiyohi County.
Memorial services are pending. Landkamer Johnson-Boman Funeral Home, Mankato, is handling arrangements.
Mr. Duncan was born March 19, 1050, to Boyd Alvah and Helen M. (Frenzen) Duncan in Farmington. His family moved to Mankato in1961. A Mankato West High School and University of Minnesota graduate, he also attended Mankato State University. He lived and worked in Mankato and St. Paul before moving to Kandiyohi County in 1994. A member of the Baptist church, he also enjoyed music and played in several different bands.
He is survived by his Mother, Helen Duncan Purscell of Mankato; one bother, Scott of Scandia; and two nephews. He was preceded in death by his father and one brother.