In Memory
Gary Sack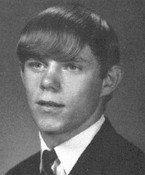 Gary was killed in Vietnam on July 30th, 1968
This was written in an article in the Free Press about Memorial Day services 5/29/18:

Cpl. Gerald Sack, 19, of Mankato, was killed July 30. He was a 1967 Mankato High School graduate and left behind a wife, Kathleen. He was a member of the 101 and 173 Airborn Divisions.
He received the Bronze Star Medal for his final actions. He "dash forward to the point of heaviest contact and began engaging the enemy." When he realized the machine gun team he was covering was running out of ammunition, he ran back to his platoon to retrieve more. He was killed as he attempted to return to his team.