In Memory
Steve Nerem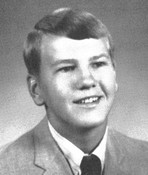 Madelia, MN--Steven R. Nerem, age 56, of rural Madelia, died Thursday, July 29, 2005, at his home.
Funeral service will be held at 10:00 a.m., Tuesday, August 2, 2005, at Grace Lutheran Church in Mankato with Rev. Joel Erickson officiating. Burial with military honors will be in Fort Snelling National Cemetery in Minneapolis. Visitation will be held one hour before to the service on Tuesday. Mankato Mortuary is in charge of arrangements.
Steven is survived by two brothers, Richard (Barbara) Nerem of Loveland, CO; Randy (Shawn) Nerem of Nicollet; one sister, Pat (Lynn) Oftedahl of Mankato. He was preceded in death by his parents Wayne and Amanda.