In Memory
Patsy Maertens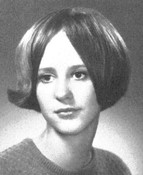 Patsy Maertens 1949 - 1969
Patricia passed away on Nov. 11, 1969.
The death of Patricia Maertens, 20, daughter of Mr. and Mrs. Lawrence V. Maertens of 508 North Second St., has been ruled due to self-iinflicted gunshot wounds, according to Blue Earth County Coroner Dr. Wallace Mathews. According to Mankato police, Patricia's body was found shortly before noon Tuesday in her home by a member of the family. Police did not make the report public until questioned about it today.
It appears that Patsy had an older sister Jean. Both were buried in Calvary Cemetery along with their parents.