In Memory
Peter Manderfeld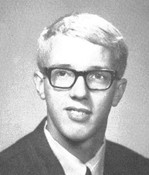 Davenport, IA --Pete Manderfeld, age 56 of Mankato, died Thursday, March 31, 2005 unexpectedly from an apparent heart attack at Genesis Medical Center in Davenport, Iowa.
Rite of Christian Burial will be held at 2:00 p.m. Sunday at St. John's Episcopal Church with the Rev. Paul G. Rider officiating. Burial will be at Glenwood Cementery. Visitation will be from 5-8 p.m. TODAY at Mankato Mortuary. Memorials are preferred to St. John's Episcopal Church or to an organization of the donor's choice.
Peter Joseph Manderfeld was born March 28, 1949 in Mankato to Joseph and Carol (Gunderson) Manderfeld.. He graduated from Mankato High School in 1967 and served in the Minnesota National Guard. On September 25, 1971, he married Elizabeth "Missy" Kozitza in Mankato. Pete was a self-employed truck driver and a member of St. John's Episcopal Church.
Survivors include his wife, Missy; four children, Paul,Mark and Michael all of Mankato, Sara and her husband, Malcolm Morison of Colorado; a sister, Josephine "Tuppin" and her husband O.D. Hauschild of Grand Rapids, MI; aunts, uncles,nieces, nephews,and cousins. He was preceded in death by his parents.