In Memory
Judith Luegge (Wetzel)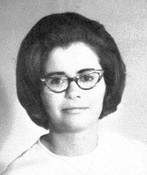 Judith Ann Luegge (Wetzel) 1949 - 2000
Johnson World-wide Associates employee Judth Ann Wetzel, 51, of Mankato died Tuesday, June 27, 2000 at her home.
Services are 10:30 a.m. Friday at Hosanna Lutheran Church in Mankato, the Rev. Steve Kosberg officiating. Burial is in Elysian. Visition is 6 to 8 p.m. Thursday at Woodland Hills Funeral Home, Mankato, and continues one hour before services Friday at the church.
Mrs. Wetzel was born January 12, 1949, to Ervin and Leona (Stahn) Luegge at Fairmont. She graduated from Mankato High School and mrried Neil Wetzel March 20, 1975 in South Dakota. She as an assembler at JWA. She was a member of Hosanna Lutheran Church and enjoyed crafts, sewing and reading.
Mrs. Wetzel is survived by one son, Ashley and his fiancee Rachael Tegmeier of Mapleton; two brothers and wives, George and Sandy of Tulsa,OK and James and Tammy of Maple Plaine; two sisters and husbands, Joan Jordan and Dennis of Cleveland and Janet Groebner and Butch of Mankato; and nieces and nephews.
She was preceded in death by her husband and parents.