In Memory
Brent Hugdahl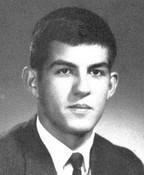 How to make a life story short?

Despite the fact that Brent left life behind earlier than he should have, he lived a full, happy and adventurous life during his 60 years. When we met, he was starting over being a bit of a vagabond after a divorce. We moved to Aspen together where eventually he became a coal miner for a couple of years. I never could figure out the thrill of working underground, but he loved it! We even lived in the Redstone Castle for about a year as caretakers...like I said, we adventured.

After a back injury and surgery, we were off to Boulder to go to school at the University of Colorado. While there, he worked in a uranium mine and yet another back injury and surgery. Eventually he went through rehabilitation to become a surveyor, ultimately leading to his lifelong profession as a construction supervisor of a Denver suburb...he was good at it and was well respected. Brent was just good at whatever he chose to be ~ including woodworker, golfer, photographer, longterm finacial planner, being a partner and a kind-hearted good person.

For much of our married life we lived in the foothills 40 miles west of Denver in our own little paradise that we built ourselves.

I could go on forever...he was my best friend, but will just leave it at it being a rotten deal with a back that couldn't be fixed and that eventually got the better of him.

I miss him!
Rebecca Hugdahl

To see more that Rebecca sent in and photos of Brent, a profile is set up for Rebecca Hugdahl at the bottom of the Class Profiles under Guest Members