In Memory
Ronald Hicks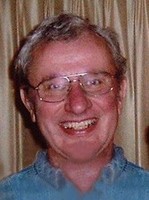 Ronald F. Hicks, age 66, of North Mankato, died on Wednesday, September 2, 2015 at his home.
Memorial service will be held on Tuesday, September 8 at 3:00 p.m. at Mankato Mortuary. Visitation will be held from 1:30-3:00 p.m. on Tuesday prior to the service. Burial will be at St. Joseph's Catholic Cemetery in Good Thunder.
Ronald was born on March 25, 1949 in Mankato to Francis and Florence (Ignaszewski) Hicks. He graduated from Mankato West High School. Ron worked for Wonder Bread and A.H. Hermel before retiring in 2011. He enjoyed vegetable gardening and cooking. He loved antiquing, especially collecting antique radios.
Ron is survived by son, Bradley; twin sister, Mona (Clair) Tripp of Illinois; siblings, Berta (Steve) Fuqua of Mankato, Russ (Deb) Hicks of South Dakota, and Roz (Bill) Goettl of St. Clair; seven nieces and nephews; and one aunt, Madeline Hicks. He was preceded in death by his parents; infant son; and aunt, Elizabeth.