In Memory
Pershing Haslip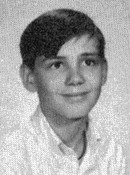 Pershing N. Haslip
EUGENE, Ore. -
Pershing N. "Snook" Haslip, 43, of Eugene, Ore., died of a heart attack on Thursday, Sept. 23, 1993.
Services will be Monday at Our Savior's Luthern Church in Eugene. Memorials can be sent to the American Heart Association.
He was born in New Ulm in 1949 and grew up in Mankato. He graduated from Mankato High School in 1967. He owned Action Automotive in Eugene.
He is survived by his mother, Leona Haslip of Eugene; two brothers, Gary of Eugene, and Harlin "Hank" of Sisters, Ore.; one step-brother, Robert Haslip of St. Peter; and one sister, Brenda Black of Eugene.