In Memory
Doug Goodell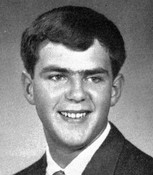 A Celebration of Life memorial will be held at the American Legion, 319 Broadway Street in Cleveland MN on Sunday, October 25th from 3:00-5:00pm in honor of Lynn Douglas Goodell, age 66 of Baldwin WI.
Lynn, who preferred to go by his middle name of Doug, died suddenly and unexpectedly on Thursday, October 8, 2015. Doug was born January 3, 1949 in Mankato MN to parents Dean and Dorothy (Knutson) Goodell. Doug was raised in Mankato, and graduated in 1967 from Mankato West High. Doug went on to learn skilled trades as a drywall journeyman.
Doug was a hard worker with a sense of humor. He loved hunting, fishing, camping, and being outdoors, where he could truly enjoy nature. Doug enjoyed watching NASCAR, and the days of cheering for his favorite driver, Mark Martin. Doug also served others in his community, where he was a member of the Cleveland (MN) Fire Department for more than 14 years. Doug was a great cook, and an even better dad. He loved time spent with family, and will be missed dearly by family and friends alike.
Doug is survived by his wife, Tracy; her four sons Justin (Kimberly), Verle (Tiffany), Nicholas (Adam), and Dillon (Kelly) Anderson and grandchildren; Doug is also survived by his first wife Susan and their three daughters Anna (Brian) Fasnacht, Lynne (Mark) Maczkowicz, Jessica (Chad) Ballman and grandchildren and great grandchildren. He is also survived by his brother, Brad (Bev) Goodell; sister, Charlotte (Tom) Thiess; as well as many nieces, nephews, cousins and friends. He was preceded in death by his parents Dean and Dorothy Goodell, as well as his grandparents Lawrence and Florence Goodell.