In Memory
Shirley Flynn (Hemish)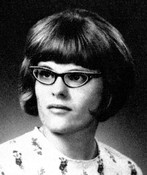 Mankato -- Shirley Flynn (Hemish) 1949 - 1992
Lifelong Mankato resident Shirley Hemish, 42, died Wednesday, April 15, 1992, at her home.
Services will be 2 p.m. Monday at Grace Baptist Church, the Rev. John Michel officiating. Burial will be in Woodland Hills Memorial Park. Visitation will be 3 to 5 p.m. and 7 to 9 p.m. Sunday at Woodland Hills Funeral Home.
Mrs. Hemish was born Sept. 3, 1949, to John C. and Elizabeth (Nye) Flynn. She graduated from Mankato High School. She married Gary Nelson and later George D. Hemish.
Mrs. Hemish is survived by her husband; two sons, Cory Nelson of Pierce, S.D., and Terry Nelson of Mankato; three stepsons, Matthew, Reed and Jason Hemish of Mankato; four brothers, Charles Flynn and his wife Kathy of St.Peter, Tom Flynn of Pemberton, Jim Flynn and his wife Pok Kim of Lonsdale and Lee Flynn of Mankato; three sisters, Carol Pattishall and her husband Frank of Clarksfield, Louise Holey and her husband Milo of Montgomery and Linda Flynn of Fairmont; and many nieces, nephews, aunts and uncles. She was preceded in death by a brother, David.