In Memory
Dawn Caswell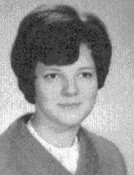 DAWN FERN CASWELL obituary
Ex-Kato girl about to be wed dies in mishap (Mankato Free Press, Monday, Jan. 2, 1969)
A former Mankato girl was killed in a car accident near the Twin Cities Monday night just 2½ weeks before she was to be married.
She was Dawn Fern Caswell, 19, daughter of Mr. Mrs. Clark Caswell, now of Brooklyn Park. The two-car accident happened at the junction of 63rd Ave North and Hennepin County Road 18 in Maple Grove.
Miss Caswell was a passenger in a car driven by her fiancé, Thomas Zopf, 25, Brooklyn Park. They were going to be married Jan. 18 in Mankato.
According to the Maple Grove Police Department, road conditions were slippery at the time the Zopf car, going north on county road 18, skidded across the center line crosswise into the path of an eastbound car driven by Lyle Eugene Hildebrandt, 25, of Maple Grove.
Miss Caswell was dead at the scene. David Hildebrandt, 23, a passenger in his brother's car, is in fair condition at North Memorial Hospital in Minneapolis.
Zopf has been from North Memorial Hospital and Lyle Hildebrandt was not hospitalized.
Funeral services for Miss Caswell, a 1967 graduate of Osseo High School, will be at 1:30 p.m. at First Presbyterian Church of Mankato, the Rev Frank Martick officiating.
Burial will be in Minneopa Cemetery. Visitation will be at Landkamer's Funeral Home and will be one hour before the service at the church.
Survivors include her parents; a sister, Pamela at home; brothers Bradley, Randy, Gregory and Thomas, all at home, and a paternal grandmother, Mrs. Sam Caswell of Mankato.