In Memory
Michael Allen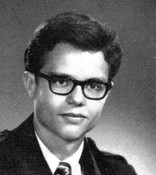 MICHAEL DAVID ALLEN obituary
Cyclist dies after two years in coma (Mankato Free Press, July 18, 1969)
Michael David Allen, 20, Lake Crystal, became a 1967 traffic fatality statistic when he died at 1:35 p.m. Saturday at St. Joseph's Unit.
Two years and five days ago he collided with a car while on a motorcycle at the intersection of Highway 169 and Blue Earth County Road 69.
Allen went into a coma with multiple fractures and abrasions and never regained consciousness.
The accident happened Sunday, July 23, 1967. He was taken to Immanuel Unit. Late Sunday night he was transferred to St. Mary's Hospital, Rochester, and was still in critical condition Wednesday after the accident. Allen was taken to St. Joseph's Unit in October 1967 and remained hospitalized.
The collision occurred at the intersection when Ted Evenson, 61, was crossing Highway 169 heading into the Junction Inn. Evenson was not hurt.
The motorcycle was demolished and the car received $200 damage.
The Minnesota Highway Regulation Act, which prohibits and driver or rider of a motorcycle without a helmet on and fastened, was too late for Allen. Hair was found imbedded in the roof of the car according to the Highway Patrol. The law didn't go into effect until May 1968. The law was passed in the 1967 legislative session.
Funeral services will be at 2:00 p.m. at Centenary Methodist Church, the Rev. Ralph High officiating.
Burial will be in Grandview Cemetery. Visitation will continue until noon Tuesday at Landkamers and one hour before services at the church.
Service include his parent, Mr. and Mrs. Rollin Allen of rural Lake Crystal and grandmother, Mrs. Veva Sheppard of Gold Beach, Ore.
He was born in Mankato on Feb. 19, 1949 and was graduated from Mankato High School in 1967. Allen was active in track and gymnastics in school as well as stock racing.
At the time of accident, he was employed by Chip Steak Provision Co, Mankato.